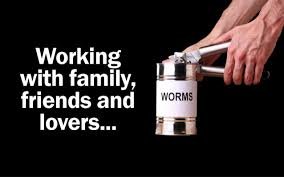 Statistics show that most appraisers either work on their own or have one other helper who might work with them.  Very few residential appraisal offices have more than one appraiser and even fewer could be considered a true appraisal "firm" with many employees and contractors all working to grow the company.  Those that do have help often turn to those they know (sometimes intimately) for that assistance. In other words, they hire family or friends. But, is this a good idea?
At any given time, I am working closely with dozens of appraisers – helping them to grow the business side of their appraisal practice.  Part of that growth comes by utilizing the law of delegation and surrounding yourself with a team who are all helping your business to achieve its full potential.  I am often asked if hiring a spouse, son/daughter, mother/father, or close friend is a good idea. The question is often accompanied by a justification such as, "She really needs a job" or "He has been around the appraisal business for so long that training will be a cinch!"
Statistically, employees do not last long term.  In fact, Tier I and Tier II level employees often do not last longer than 2-3 years at the most.  The fact is, answering phones or doing data entry is usually a stepping stone to something else. It is called an entry-level job for a reason.  Unfortunately, many business relationships do not last because some thing(s) happens to cause the boss (you) to have to let that person go. That is never a fun thing, but it does happen.
Whenever I am asked if hiring a family member or friend is a good idea, I always give the same advice; never hire anyone you are not willing to fire.  My dad used to always say, "If you pick up one end of the stick, you also pick up the other." I think what he meant was that when you choose one thing, you also inadvertently choose the consequences to follow.  Since the numbers show that most business relationships do not work out long-term, and many of them are terminated because of a negative circumstance, do not put yourself in that situation to begin with. If letting someone go is going to cause long-term damage to an otherwise healthy relationship, it may be better to avoid that result by not hiring that person in the first place.
Does that mean working with family members never works out?  Of course not. I have hired multiple family members over the years.  It can, and does, work out at times. Just be willing to treat them like a full employee and be willing to let them go if it is not mutually beneficial.  
For more on this topic, see The Appraiser Coach Podcast Episode 256 – Should Appraisers Hire Family.